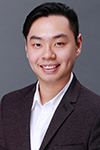 Phang Wei Xian | Head of IT
I joined Healy Consultants Group in April 2013, initially as Web developer at IT department. I am a Singaporean and I have been working for 2 years before joining Healy Consultants. I studied IT and Business in university. I enjoy working at Healy Consultants as I am able to apply my skills and knowledge to help Healy Consultants improve their website.
My business goals

To take on challenging projects

To learn more skills and knowledge

To archive financial freedom at 40

My daily work schedule

To ensure all computers are working fine

Fix any errors on website

To improve SEO ranking

The most interesting work I ever did

Assisted in the transition of the Chief Justice of Singapore. Ensuring all system is working perfectly.

The most rewarding work I ever did

Got a recognition letter from the Chief Of Army for the participation in NDP 2010.

Pastimes

Reading, running, gym, travelling, friends and family

Business style

Straight forward, organized, multi-task

Role models

Steve Jobs, Arnold Schwarzenegger, Thomas Edison

Past work experience

Supreme Court of Singapore

Alexandra Hospital
Contact our firm
Your query will be handled promptly by one of our in-house experts based on the nature of your query and your country of interest.