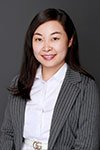 Yekaterina Li | Client Engagements Department Director
I joined Healy Consultants Group in March 2021 as a Senior Client Engagement Manager. I started my career with one of the Big4 firms in Almaty, Kazakhstan, later gaining ACCA qualification and working in finance in different sectors. Now I'm using my business and finance background to assist our multinational Clients with company setup and expansion globally.
My business goals

To have a diverse and rewarding business experience, continuously learning and enhancing my technical knowledge and soft skills.

My daily work schedule

Starting the work day by planning and prioritising the tasks I need to accomplish;

Discussing business setup and related services with our multinational Clients;

Co-ordinating multiple engagements and liaising with partners and colleagues.

The most interesting work I ever did

Working part-time as a tutor for local accountants that prepare for a Diploma in Financial Reporting;
Working as an English-Russian interpreter during an international education exhibition when I was in high school.

The most rewarding work I ever did

Helping and playing with children with special needs during a social internship in the Philippines.

Pastimes

Hiking and spending time outdoors;
Boardgames, music and reading, cooking.

Business style

Honest and responsive;

Adaptable and accurate.

Languages I speak

Russian and English, and a little bit of Kazakh

A sample of my global business experience

Assisting Clients with business setup in countries such as Hong Kong, Singapore and the United States; auditing and preparing reporting under IFRS for various clients in the financial, mining and FMCG sectors.
Contact our firm
Your query will be handled promptly by one of our in-house experts based on the nature of your query and your country of interest.