Abu Dhabi client case studies in 2023
Selling software technologies to the Abu Dhabi government
Background
John, a successful business owner in the United States, wished to expand his cost-accounting company into the UAE in order to bid on contracts with the Abu Dhabi government. The company needed to be incorporated quickly as the bidding process for this multi-million dollar contract was short.
Engagement planning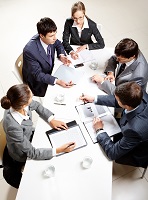 The planning phase for this engagement was extensive, as Healy Consultants needed detailed business information to determine the correct UAE licensing, local sponsor requirements, and incorporation procedure. John was quick to reply full due diligence on himself and his company, and Healy Consultants was able to approach the relevant government authorities to determine the business set up strategy. The engagement strategy was researched and planned over two weeks.
We presented John with a 25 page engagement strategy document detailing i) his Firm's expectations ii) Healy Consultants expectations iii) engagement terms and conditions iv) incorporation procedures and timelines v) costs vi) accounting and tax considerations vii) legal and banking matters viii) local sponsor what if scenarios, what could go wrong etc.
Company incorporation
Upon the Abu Dhabi recommencing the bidding process, Healy Consultants initiated the incorporation procedure. A local sponsor familiar with the healthcare industry was selected by John and the local sponsor entered into a side shareholder's agreement with the company. John and his staff then travelled to Abu Dhabi to meet with this sponsor, the government authorities, banks and search for proper office space.
A suitable office space was found, offering the new company the ability to sponsor work visas. Healy Consultants then applied for the company name with the Department of Economic Development and had John sign the incorporation forms, licenses in front of the Abu Dhabi courts. A bank certificate of the 150,000 dirhams (US$41,000) for the registered share capital was received from the bank and notarized as well.
After bank setup and licensing approval, the company was registered with the Company Registry Office of the Ministry of Commerce. The registration certificate was received within 3 working days and Healy Consultants subsequently registered the company with the General Directorate of Residency and Foreigners Affairs (GDRFA) – Abu Dhabi and Labor Department for future work permits.
Corporate banking
Before application for incorporation, Healy Consultants proceeded to open a corporate bank account in Abu Dhabi to support our Client's business. Because of John's need of corporate finance, performance bonds, and close ties with the government, a local bank in Abu Dhabi was selected. To accompany the bank account application, an abridged version of the business plan was prepared.
The complete application included the application form, business plan, the company's trade license, the warehouse lease agreement, a copy of John's passport and bank reference letter (from a corporate bank in the United States). All of these documents were certified and translated into Arabic. Healy Consultants also attended an interview on our Client's behalf, explaining to a bank officer why the Abu Dhabi company required a corporate bank account along with a 5% performance bid bond.
Healy Consultants' then received account approval notification, allowing our Client to conduct international financial transactions. Two weeks later, we received (in sealed, separate envelopes) Internet banking and ATM card PIN numbers along with other necessary documents, which were kept safely at our office for John's collection. Later, John was able to show the Abu Dhabi government his registered share capital and bid bond to successful submit his application for the government contracts.
Trade license application
Upon careful consideration of the company along with an analysis of the bid contract John's company was applying for, Healy Consultants legal team determined that we would need to apply for an IT Consultancy and Computer systems wholesale license with the Economic Department. The detailed business plan, company documents, and local sponsor information was provided to the government and we received license approval within three working days.
Visa applications
Because of the consulting, contract based nature of the business, Healy Consultants helped apply for two work visas for the company. John wished to remain residing in the US. Healy Consultants subsequently prepared visa applications and paperwork sponsored by the newly form Abu Dhabi company and submitted them to the General Directorate of Residency and Foreigners Affairs (GDRFA) – Abu Dhabi and Labour Department for future work permits.
There was a small error in the share capital requirements designated by the Ministry of Economy which was not communicated to GDRFA. As such, Healy Consultants effectively communicated the government error, and was rectified within 6 working days. John and colleague were able to collect their work visas upon their next visit to Abu Dhabi 3 weeks later.
Conclusion
Following engagement completion, we presented our Client with a complete company kit. Thereafter, we requested the following:
John to complete our customer satisfaction survey;

John to be a professional reference for us;

John to agree to place a reference on our website.
Over the coming years, Healy Consultants will complete the Abu Dhabi annual accounting and auditing obligations together with license renewals.
Pipeline contractor eyes Abu Dhabi opportunities
Background
Long in Dubai's shadow, Abu Dhabi's economy is riding the crest of high oil prices, and this has created a wave of opportunities for foreign investors, especially those involved in the oil, gas and associated industries. Our Client, Mark, was hoping to tap into this potential. He is the managing director of a pipeline contracting company with the core of its operations in Asia Pacific and Australia. The company has worked on many important water, gas and petrochemical pipeline projects around the world, but to date had done little work in the Middle East. Healy Consultants has worked closely with Mark and his company over the last year to provide a comprehensive business setup service in Abu Dhabi, and he is now well-placed to win lucrative government tenders.
Mark approached Healy Consultants to explore ways in which we could help him achieve his objectives. With several new multimillion dollar oil and gas-related projects on the drawing board in Abu Dhabi, Mark believed that his company may gain a competitive advantage at the tender process if it had a local subsidiary. Mark's preferences were that he should have full legal control of the company, and that he would set up a fully-fledged office in Abu Dhabi to serve local Clients.
Mark spoke to Aidan Healy, managing director of Healy Consultants, via telephone to discuss the corporate options available to him. Aidan also explained the various legal, tax and accounting implications of setting up a business in Abu Dhabi, and also warned Mark of the multiple challenges (and high costs) of doing so. Mark appeared to be grateful for this important advice at this early stage. Given the nature of the operation Mark was looking to establish, it was clear that an Abu Dhabi limited liability company (LLC) would be the only suitable corporate structure to enable him to undertake projects in Abu Dhabi itself. An Abu Dhabi LLC would allow Mark to obtain a UAE trade license, rent an Abu Dhabi business premises, open a local bank account and obtain local visas for expatriate employees. However, Aidan made it clear that Mark would require a UAE national to be the majority shareholder in the company.
Engagement start
The engagement began in earnest when Mark, who is based in Singapore but divides his time between Australia and the Asia Pacific, signed Healy Consultants' Client Engagement Letter and supplied all Healy Consultants' required corporate and personal due diligence. These documents were then sent by courier back to our Singapore office. Our Client Engagement Letter contains information on the structure of the new company, including shareholders and directors. Given that the company required by law a UAE national to hold 51% of the shares, Mark chose to use Healy Consultants' nominee shareholder services. Hassan, a UAE national based in Abu Dhabi, has acted as a reliable and trustworthy nominee to fulfill several of our Clients' UAE legal requirements, and so we recommended Mark meet him in Abu Dhabi.
Nominee shareholder/sponsor
Although Mark is not a regular visitor to the Middle East, he agreed to coincide a business trip to Saudi Arabia and Dubai with a meeting with Hassan, and Hassan drove to Dubai to meet with Mark in his hotel. Mark was satisfied that Hassan would be a bona fide nominee. Since an Abu Dhabi LLC is also required to lease an office, a member of Healy Consultants staff introduced Mark to a real estate agent in Abu Dhabi, who gave him a guided tour of potential office properties in suitable locations. In the end, Mark agreed to secure an office and small warehouse facility in Mussafah Industrial Area on the outskirts of the city, where many other contractors are based.
Company incorporation
Healy Consultants' Dubai-based Incorporation Team then started the incorporation process by approaching the Abu Dhabi Chamber of Commerce. Prior to company registration, every new Abu Dhabi company is required to become a member of the Chamber of Commerce. The Chamber of Commerce membership application was both time consuming and complicated by paperwork. Before our Incorporation Team could submit passport copies and photographs of each company director and shareholder, and a Chamber membership application, they had to obtain a reference letter issued by the Abu Dhabi Municipality (achieved in three days) and a partnership agreement authenticated from the Royal Court in Abu Dhabi (which took one week to obtain). In addition, our Client was required to finalise arrangements for renting office space, as a copy of the lease agreement was also necessary at this stage.
With all the documents submitted and two follow up telephone calls to get status updates, our Incorporation Team received notification the Mark's company had been accepted as a Chamber member, and that the intended company name had been approved, within ten days. The next stage was for our Incorporation Team to submit the new company's Memorandum of Association to the Abu Dhabi Chamber of Commerce. The Memorandum of Association detailed the structure of the new company formation, including Hassan as the 51% shareholder and Mark as the sole director. Before it could be submitted, the corporate documents were couriered to Mark in Australia for his signature and return to our Singapore office, from where they were forwarded to our UAE team for submission to the Chamber.
Minimum capital
The next step was to obtain a Capital Contribution Certificate for the company, confirming that the minimum required capital (in the case of an Abu Dhabi LLC this is US$40,000) had been paid up into a UAE bank. Our Banking Team approached a local bank in Abu Dhabi to open an ESCROW account, a process which took three working days. The bank was also able to issue a Capital Contribution Certificate, which was then submitted to the Chamber of Commerce by our Incorporation Team.
The next legal requirement in the process was to secure approval from the body which oversees the Client's principal activity. In this case, the application was referred by our Incorporation Team to the UAE Supreme Petroleum Council for approval. Once a week for three weeks our staff in Abu Dhabi called the Chamber of Commerce, the Supreme Petroleum Council and the Municipality to check on progress, so we could update Mark. One of our Incorporation Team then visited the Supreme Petroleum Council in person, and was able to secure verbal approval that the new company had been incorporated. Three days later, we received written confirmation from the Supreme Petroleum Council that the company had been incorporated.
The next step was to submit the company's details into the Commercial Register at the Chamber of Commerce, including the incorporation approval letter from the Supreme Petroleum Council.
Trade license
The final step to obtain a Trade License was to prepare the Mussafah office for inspection by an officer from the Chamber of Commerce. Although Mark was out of Abu Dhabi, Healy Consultants received the officer, who was able to pass the property. Three weeks after this, the Trade License was mailed to the Mussafah office, where a scanned copy was taken and e-mailed to Mark in the Far East.
With the company now a legal entity, Mark requested our assistance with a range of corporate support services, from helping furnish the office in Mussafah to opening a corporate bank account and applying for work permits for expatriate staff to run the operation and bid for contracts in Abu Dhabi.
Corporate bank account
To open a corporate bank account, our Marketing Team first prepared a detailed business plan outlining the company's intended activities, its ownership structure and an analysis of the market conditions. This was e-mailed to Mark, who signed the document and returned it by courier to our Dubai office, where our Banking Team had already completed an account application form for a multinational commercial bank in Abu Dhabi. Our Banking Team submitted the application pack, which also included due diligence as required by the bank, and within two weeks received an account number, which was sent to Mark. This was followed by ATM cards and PIN numbers, which were held securely in Healy Consultants office.
Work permit/residence visa
The final step in the business setup procedure was to assist Mark to obtain a work permit for one Dutch expatriate manager in Abu Dhabi, who would be responsible for the early phase of the company's growth. Obtaining a UAE work permit is time consuming. In order to obtain a UAE work permit, the applicant is required to provide his/her educational certificates (attested by the UAE embassy in the applicant's home country, in this case Holland), as well as passport copies. Thanks to the efficiency of the Dutch employee, Dirk, the required information was supplied swiftly and the application process could begin.
Firstly, Healy Consultants completed an application form from the UAE Ministry of Labour, and then submitted this to the Post Office along with the attested university degree, passport copies, a completed Degree Verification Form (from the Ministry of Labour). Within one week the Ministry of Labour in Abu Dhabi had approved the work permit. Following Ministry of Labour approval, Healy Consultants obtained a labour card from the Ministry, and paid a bank guarantee of 3,000 dirhams to the bank located at the Ministry. The work permit was then collected.
The next stage is to obtain an Employment Visa from the Abu Dhabi Immigration Department. Healy Consultants submitted the original work permit, the labour card, and the sponsoring company's trade license. This was obtained within one week. At this stage, Dirk traveled to Abu Dhabi to obtain a health card and undergo a medical check up. Our staff accompanied Dirk to a local hospital in Abu Dhabi, where he passed the medical and was issued with a fitness certificate, allowing him to obtain a UAE residence visa.
Conclusion
After a protracted incorporation and business setup process, Mark's Abu Dhabi company is growing, and it is likely that he will request Healy Consultants' assistance to obtain employment visas and help with payroll functions in the next few months. Overall, Mark was grateful that he was not required to travel to Abu Dhabi (apart from voluntarily meeting Hassan and selecting a suitable office premises in Mussafah) at any stage of the engagement, since he is a busy contractor who is often in remote field locations in Australia, Indonesia and Malaysian Borneo.