Interesting facts about the Bahamas in 2023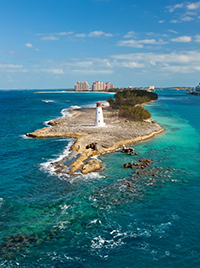 Bahamas is a North American country, which comprises of an archipelago of 700 islands;

The name of the country comes from the Spanish word 'bajamar', meaning 'shallow water';

The official language spoken in the country is English and the currency, the Bahamas dollar is at par with the US dollar;

Around 50% of the national GDP is generated by tourism. It is one of the wealthiest countries in the Caribbean. After tourism, financial services constitute the second-most important sector of the Bahamian economy;

There is no legal drinking age in the Bahamas;

School attendance in Bahamas is compulsory between the ages of 5 to 16;

Conch, among other foods, especially sea food, is a staple food in the Bahamas;

Dean's Blue Hole on Long Island, Bahamas is the world's deepest blue hole.
Frequently asked questions