Romania employment visas in 2023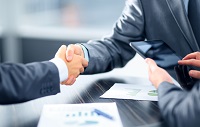 All foreigners looking to work in Romania are required to secure a work visa from the Ministry of Foreign Affairs. Healy Consultants will assist our Clients by preparing a quality visa application and submitting it to the Romania authorities.
Press the link headings below to read detailed, relevant, up to date information:
Entrepreneur visa

Entrepreneurs outside of EU interested to do business and work in Romania are required to obtain a long term multiple visit permit (type D);
Mandatory required documents required by the Ministry of Foreign Affairs include:

i)

a completed form 5285;

ii)

valid passport,

iii)

a recent passport-size photo (3/4),

iv)

proof of sufficient funds and background,

v)

proof of insurance policy obtained within the EU;
A Romanian long term multiple visit permits is valid for five years;

This type if multiple visit permit is suitable for small enterprises, branch offices and representative offices who aim to hire no more than 10 employees.

Employee visas

As part of the European Union regulations, Romania has implemented several simplified procedures and lower requirements to attract foreign investors;
Healy Consultants Group and our dedicated HR team will optimize the administrative burden on our Clients' behalf when interested to bring foreign employees in Romania. We will do this by preparing and submitting the work permit application on our Client's behalf to Romania's Ministry of Labour, Social Affairs and Equal opportunities;
Documents to be submitted with the employer's assistance include, but are not limited to:

i)

two personal photos of the proposed employee,

ii)

a copy of the proposed employment contract with translation in Romanian,

iii)

a copy of the employee's passport and ID,

iv)

the Romanian business document set,

v)

proof of the employee's background, education and qualifications.

Short term transit visas (Type A and B)

For foreigners travelling through Romania, these types of visas allow the access into and stay in the international area of an airport or other special transit areas;

The duration of such stay cannot exceed 5 days;

Required documents to support this visa include

i)

valid passport copy,

ii)

signed visa forms,

iii)

one recent photo and

iv)

ongoing ticket reservation.

Blue card visa

The EU Blue Card is a permit issued to highly qualified non-EU citizens in target fields that certifies the right to reside and work in Romania;

Minimal requirements to obtain an EU Blue Card include:

i)

high education tier,

ii)

high gross starting salary and

iii)

specialization in a target industry;
Foreigners who already hold a similar EU Blue Card in another member state, need not to apply again for a Romanian visa again.

Government liaison services

All Romanian companies and foreign entrepreneurs require the services of a Government Liaison Officer for their visa and/or residential requirements. Healy Consultants will efficiently and effectively

i)

secure visas and resident permits for foreigners,

ii)

secure resident certificates for European citizens,

iii)

secure resident cards for foreigners who are family of European citizens,

iv)

submit labour quota applications,

v)

obtain driving licenses, and

vi)

appoint a company Manager;
In addition, Healy Consultants assists our Clients with

i)

import and export documentation,

ii)

typing and translation services,

iii)

MFA attestation services,

iv)

health cards for employees,

v)

vehicles registration,

vi)

company sign board,

vii)

telephone and fax application, and

viii)

electricity and water application.