Success tips when doing business in Finland in 2023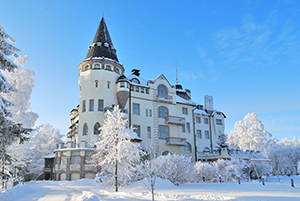 Gender equality is deeply ingrained in the Finnish society. Any kind of discrimination is highly frowned upon;

Our Clients should be aware that gifts or money should never be offered to public officials or business partners;

The working day in Finland changes according to the season. In general, offices will open from 08:00-16:15 in the winter and from 08:00-15:15 in the summer. The holiday months are July, August and September;

Business meetings in Finland are very formal. Avoid unnecessary small talk and personal questions;

Finns take their words seriously and verbal agreements are often binding. Hence, we suggest our Clients to pick their words carefully during business meetings;

Finns are very punctual and like to use time effectively. People often use the 24-hour clock and stick to timetables;

Saunas are a big part of the Finnish culture, and some informal business meetings might even be conducted in saunas;

You should always carry your business card, preferably having a translation in Finnish or Swedish on the back;

Be careful of your reputation. Due to the small size of the markets, all competitors know each other well and negative remarks and other comments can spread very rapidly.
Interesting facts about Finland?
The largest sector of the Finnish economy is services at 65 %, followed by manufacturing and refining at 31 %. Primary production is at 3%. Finland's main industrial products are paper and board, electronics and metal products. Engineering and high technology industries are the leading branches of manufacturing. Finland's main industrial sectors include

i)

the metal and electronics industry

ii)

the forestry industry and

iii)

the chemicals industry;

Finland is one of the world's leading producers and exporters of forest industry products. About 77% of its land area is covered by forests;

The official languages Finnish and Swedish are spoken as a first language by 90% and 5% of the population respectively. English is widely spoken throughout the country;

As the eighth largest country in Europe, Finland

i)

covers an area of more than 338,000 sq. km and

ii)

has a population of 5.5 million. Its neighboring countries are Sweden, Norway, Russia and Estonia over the Gulf of Finland;

There are 187,888 lakes larger than 500 m2 and 179,584 islands within the Finnish territory;

Finland is the most sparsely populated country in the EU, with a population density of only 17 inhabitants/sq. km;

There are 3.3 million saunas in Finland;

Finland has one of the highest mobile phone ownership rates in the world;

Nokia is a Finnish company, and was the largest vendor of mobile phones in the world until it was bought over by Microsoft in 2013;

Finns drink the highest coffee per capita in the world. Most Finns drink light-roasted coffee that is more bitter than coffee drunk in continental Europe;

Finland constantly ranks first in the worldwide press freedom ranking conducted by Reporters without borders.