10 steps to incorporating in Spain in 2023
Setting up a company in Spain is a straightforward process and can be completed within 2 weeks without our Clients need to travel to Spain. The below overview of company setup mainly applies to a limited liability company (locally known as a Sociedad Limitada), and includes the following steps: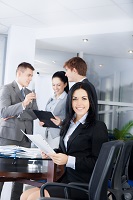 Pre-incorporation steps

Before proceeding with an engagement, Healy Consultants Group

i)

collects Know your Customers documents on the expected shareholders, directors and ultimate beneficial owners of the Spanish company and the Client

ii)

settles engagement fees (payable by instalments if necessary) and

iii)

email-returns the filled and signed Healy Consultants Group's engagement letter;
Healy Consultants Group's in-house country expert discusses and confirms with our Client

i)

the optimal corporate structure for our Client's business activity and

ii)

drafts the Power of Attorneys for our Client's signature, legalisation and courier-return;
If none of the proposed foreign shareholders and directors have a Spanish fiscal number (NIE), the same must be applied and secure before reservation of preferred company name with the Spanish Central Mercantile Registry;

Once the certificate of name availability is issued, our Healy Consultants Group's corporate banking team will secure a capital account with a Spanish bank to which our Client deposits the initial paid-up capital.

Incorporation steps

Following capital injection and issuance of the certificate of deposit by the bank, Healy Consultants Group attorneys draft and sign the company deed and articles of association before a Spanish Public Notary, who will draft and sign the memorandum of association (escritura);

Thereafter a complete quality incorporation application is submitted to the Central Mercantile Registry through CIRCE, the one stop shop Government agency also used for tax and employer registrations;

After approval, the Central Mercantile Registry publishes the deed in the official gazette (BORME) and the tax authority (Agencia Tributaria) issues the company a provisional tax identification number (CIF);

Our Client will then supply Healy Consultants with a lease agreement for Polish office premises. If our Client does not have a business premise, we will provide virtual office services for the first six months or until our Client secure a permanent business address.

Post-incorporation steps

If our Client engages Healy Consultants Group to discharge their Spanish entity's monthly accounting and payroll obligations, Healy Consultants Group will apply for the definitive CIF and submit form 036 to the tax authority. Our Client can only start trading after activation of the final CIF;
Before our Client can hire employees in Spain, the local entity must obtain an employer number known as Código de Cuenta de Cotización (CCC) from the Spanish Social Security;
After company setup completion, Healy Consultants Group couriers our Client a complete company kit comprising all Spain company corporate documents. If required, Healy Consultants Group can assist our client to

i)

hire local staff in Spain

ii)

open a corporate bank account,

iii)

secure permanent office space or

iv)

secure regulatory licenses.
Frequently asked questions