Saudi Arabia employment and visas considerations in 2023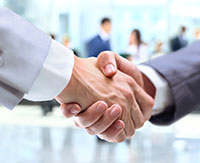 Saudi Arabian companies wanting to hire Non-Saudi citizens must comply with the Saudization levels before an employment visa (also called Iqama) is issued. Furthermore, foreigners must also secure an Iqama before being appointed as bank signatory to a Saudi Arabia corporate bank account. Consequently, most of our multinational Clients require Healy Consultants Group's assistance to secure employment and residency visas in Saudi Arabia.
Saudization (also called Nitaqat)

All foreign companies wishing to register a company in KSA must employ Saudi nationals;
In general terms, a minimum of 10% of the total workforce must be Saudi nationals. That said, the exact number of Saudi nationals required to be hired (Saudization level) is calculated based on

i)

the performance of the local economy

ii)

the total number of employees

iii)

the size of the company and

iv)

the business activity;
The country classifies KSA entities with more than 6 employees into color ranges depending on current percentages of Saudi employees. From lowest to highest – Red, Low Green, Medium Green, High Green, and Platinum;
Companies in the platinum and green ranges are rewarded and receive help from the Ministry of Labor to grow and expand, including the right to fast-tracked iqama approvals and renewals;
Companies in the red category are those not or poorly complying with Saudization levels and as such will not be able to apply nor renew employment visas for foreigners. Government fines will also be applied;
A Saudization plan is a key component of the SAGIA licensing registration process. This document must contain the expected manpower requirements, anticipated Saudization levels and a training program plan for national employees.

Employment visas (Iqamas)

On average, it takes approximately 2 months to secure an Iqama. That said, depending on the workload of the Saudi Authorities, it may take up to 4 months to secure the same.

Preliminary list of documents required

The list of documents required for an employment visa application varies depending on the nationality and place of residence of the applicant. As a general guide, below is a list of documents common for most of the Iqama applications:

Documents required from foreign non-GCC nationals include:

passport copy;
2 passport size photos;
medical report, not older than 3 months;
no-criminal records certificate, less than 1 month old;
Saudi Arabia embassy attested university degree;
applicant's resume;
employment contract with a Saudi company;
an invitation letter from the Saudi employer;
several visa application forms including: KSA declaration, work and insurance application forms.

GCC nationals generally do not need to apply for an Iqama nor supply a medical report, nor a criminal records certificate;
Once formally engaged, Healy Consultants Group will be happy to assist our Client to complete the necessary forms and supply detailed guideline as to where and how to secure each document.

Steps to secure an Iqama

No.
Steps
Week
1.
Our Client sends Healy Consultants Group

i)

the payment slip and

ii)

the signed engagement letter;
1
2.
Before an Iqama application is submitted to the Ministry of Labour, the Saudi Arabia LLC must appoint a Saudi national employee under its payroll. Our Client should budget for a minimum Saudi employee monthly salary of US$1,400 including GOSI monthly contributions;
2
3.
Healy Consultants Group prepares a list of personal documents that are required for visa application. Our Client supplies the same within 2 weeks;
2
4.
Healy Consultants Group submits the complete employment visa package, including

i)

signed employment contract,

ii)

original passport,

iii)

medical certificate,

iv)

police clearance and

v)

application form to the Ministry of Labour for the Iqama;
4
5.
The Ministry of Labour reviews the visa application and revert to Healy Consultants Group requesting additional documents. Healy Consultants provides the required documents in a timely manner. Once approved by the Ministry of Labour, the Iqama application will be forwarded to the Ministry of Interior;
8
6.
A Saudi visit visa is issued. Our Client collects the same in the Saudi Arabia embassy in the country of origin; The employee has the legal right to travel to Saudi Arabia. We will need the employee to stay for a minimum of 2 weeks to secure the Iqama and the multi entry/exit visa mentioned below;
10
7.
Once the employee arrives to KSA, Healy Consultants Group assists the Client to

i)

undergo a medical examination

ii)

record the biometrics with the Saudi Arabian Authorities. Within one week, the Iqama is issued and stamped in the employee's passport;
10
8.
Healy Consultants Group files an application to the Ministry of Interior for a multiple Exit/Re-entry permit, which allows the employee to travel in and out of Saudi Arabia whilst they have a valid Iqama. This process takes approximately 1 week. Simultaneously, we register the employee with the General Organization for Social Insurance (GOSI).
12

Important information regarding your visa application

The passport of the foreign employee must have at least 2 blank pages facing each other and 6 months validity;
Each company has a quota for residency visas. The local to foreign ratio is 10%. Therefore, before the first Iqama is issued, the Saudi Arabian entity must already have employed at least one local employee;
Residency visas are valid for up to two years. Employees cannot work for anyone other than their sponsoring employer and sponsorship cannot be transferred until the employee has worked for their original sponsor for at least two years. With an Ajeer approval (see below) exception may apply;
Before a foreign employee secures an Iqama or residence visa in KSA, the foreign employee must secure a visit visa, to be collected in the Saudi embassy in the country of origin. The same is then converted to a residence visa (Iqama) within approximately 2 weeks from arrival in Saudi Arabia;
A visitor visa must be sponsored by a Saudi resident company or resident individual, who is required to issue an invitation letter;
Employees leaving Saudi (for a holiday or business trip) require their employer/sponsor to acquire an exit/re-entry visa. If an employee is leaving the country and not returning, he will be issued an exit-only visa. Healy Consultants Group assists our Client to secure a multi-entry/exit visa during the first weeks of arriving in Saudi Arabia.

Ajeer System

The Saudi labour law dictates that foreigners holding an Iqama must work for the sponsoring company and in the sponsoring premises only, unless an Ajeer letter is secured;
Therefore, contracting and subcontracting companies wanting to station their expatriate employees at client sites for a particular project or service must secure approval from the Saudi Ministry of Labour (MOL) through the online Ajeer system;
In an effort to incentivize employment in the country, MOL can issue Ajeer approval letters to

i)

allow a company's employee to work temporarily for another entity, without the need to transfer the Iqama

ii)

expatriate's dependents to work in educational jobs on a temporary basis and

iii)

employees allowing them work during the course of an employment dispute and

iv)

Yemeni nationals;
Ajeer letters are issued to companies compliant with Saudization policies and that fall under certain sectors including

i)

construction;

ii)

operation and maintenance;

iii)

cleaning and maintenance;

iv)

consultancy and business services or

v)

education. The receiving party does not need to fall under any of these sectors;
Ajeer approvals are valid for up to six months, renewable thereafter.
Frequently asked questions