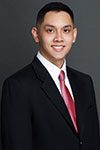 Danial Wan | Assistant Accountant Executive
I joined Healy Consultants Group PLC in 2022 as an Assistant Accountant Executive. Prior to that, I used to be an Analyst at a start-up called MyCorr.
My business goals

To assist the accounting team and ensure quality work is produced
Learn more about how multi-national clients operate
Gain more experience in the consulting industry

My daily work schedule

Follow up on renewals
Liaise with colleagues and assist wherever necessary
Complete my tasks with efficiency and accuracy.

The most interesting work I ever did

I pitched to a group of foreign investors for a USD 10 million investment.

The most rewarding work I ever did

I was a fireman during national service, and I saved lives.

Pastimes

Checking out new restaurants
Travelling
Reading

Business style

Straightforward
Responsible and honest
Focused

Languages I speak

English, Malay, Bahasa Indonesia and simple mandarin

A sample of my global business experience

Head of operations in a logistics company and was involved in government tenders. I was also part of the co-founding team for MyCorr, a start-up involved in automated farming processes.
Contact our firm
Your query will be handled promptly by one of our in-house experts based on the nature of your query and your country of interest.