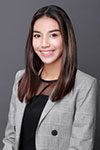 Farhah Durar Razmi | Client Relationship Officer
In early October 2021, I started working at Healy Consultants Group PLC as a Client Relationship Officer. Prior to that, I was a Senior Financial Specialist for Great Eastern Financial Advisers for 2 years. Now, I look forward to use my experience in networking, consulting and benefit management to assist my Clients and colleagues.
My business goals

To attain substantial professional growth within my line of work, specifically in Finance and Accounting.
In addition, I seek to provide exceptional satisfaction in all the products, services and results I provide for my Clients.

My daily work schedule

Assisting Clients with the bank account opening process.

Assisting the team with business engagements.

Sourcing information on business incorporation rules and legislation.

The most interesting work I ever did

I helped one of my Clients find the most suitable investment portfolios that suit their needs and accumulate their wealth. Eventually, I closed a RM8 million deal with an investor. Consequently, it also led to more referral Clients who requested for my advice with their portfolios.

The most rewarding work I ever did

Giving back to the community: During my educational stint in my Master's Degree in Accounting and Finance, I created a program called "A day with the Homeless" and invited all the students from six different states in Malaysia to participate. For seven consecutive days, we provided food and shelter to the homeless folks.

Pastimes

Business style

Organised

Meticulous

Timely

Languages I speak

A sample of my global business experience

Preparing investment portfolios for high-net-worth Clients from Malaysia and India.
Contact our firm
Your query will be handled promptly by one of our in-house experts based on the nature of your query and your country of interest.