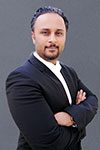 Fawad Ahmed | Human Resources Manager
I joined Healy Consultants Group in December 2021 as Human Resources Manager. Prior to that, I used to work as a Senior HR Consultant serving multiple clients across various industries in the MENA Region.
My business goals

Lay a strong foundation on all HR Functions
Build a strong people's culture
Infuse technology with HR and automate processes
Convert HR from traditional to strategic department

My daily work schedule

Review and update employee files
Review and update local laws and regulations
Handle any disputes and grievances
Ensure smooth function of all HR processes
Attend to ad-hoc queries
Update management on daily tasks

The most interesting work I ever did

I have personally enjoyed working with Data and creating Dashboards. I have recently enhanced my skill set and I am a trained professional with Data Analytics. My last assignment was with a Medical Insurance Company wherein I had the opportunity to comprehend their data set for analytics and visualization.

The most rewarding work I ever did

I had the opportunity to work with the Saudi Ministry of Health in their vision 2030. My role was to assist them with Head hunting their senior leadership roles. I had successfully closed senior directors and department heads and was rewarded and acknowledged.

Pastimes

Playing the Guitar
Motorcycles
Aquascaping & Fish keeping
Camping & Trekking

Business style

People Centered
Task Oriented

Languages I speak

English – Fluent

Urdu – Native

Arabic – Conversational

A sample of my global business experience

Serviced Clients across UAE, Saudi Arabia, Oman, Qatar, Pakistan with their HR Challenges.
Contact our firm
Your query will be handled promptly by one of our in-house experts based on the nature of your query and your country of interest.