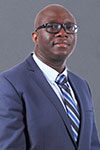 Gideon Maramba | Accounting Officer
I joined Healy Consultants Group PLC in October 2021 as an Accounting Officer. Prior to that, I used to be an Accounts Receivable Manager for a French multinational group based in South Africa.
I am a Chartered Certified Accountant as well as a Chartered Secretary with over 20 years all round accounting, tax and corporate finance experience. I look forward to the exciting journey ahead of me with Healy Consultants Group PLC and learn about business setups in different jurisdictions around the world.
My business goals

To deliver exceptional quality work to our Clients within the agreed deadlines.

To help Clients achieve compliance through timely discharge of all accounting and tax obligations in various jurisdictions all over the world.

To be a tax expert for various jurisdictions and be able to advise our Clients on how they can efficiently plan and structure their businesses.

To use my current skills and acquire new ones to enable me to function in any department of Healy Consultants Group PLC.

My daily work schedule

Project managing accounting and tax engagements for Clients.

Imparting myself with knowledge on accounting and tax requirements for different countries all over the world through research.

Coordinating with my peers, management and service providers to resolve complex tax and accounting issues for our Clients.

The most interesting work I ever did

Successfully registered a foreign loan and obtained an investment license for a Chinese foreign investor in Zimbabwe after several months of deliberations and fulfilling stringent requirements from the Reserve Bank of Zimbabwe, Ministry of Trade and Zimbabwe Investment agency.

The most rewarding work I ever did

Setting up and running a foreign branch of a Zimbabwean company in Malawi. This provided much needed foreign currency inflows to the Zimbabwe parent company as well as employment opportunities and fiscal contribution to Malawi in addition to the regional exposure it afforded me.

Pastimes

Reading financial news and learning about financial markets.

Watching sport, especially soccer. I am a staunch Liverpool fan.

Enjoy spending time with family.

Business style

I am a results and process driven person.
I always pay attention to detail and advocate for continuous improvement for processes.
I always exercise professionalism and due care in the discharge of my Client's duties.

Languages I speak

A sample of my global business experience

Preparing accounting and tax reports for multinational Clients based in various jurisdictions like Singapore, Hong Kong, Colombia, France, Cameroon, Marshall Islands and Japan.
Contact our firm
Your query will be handled promptly by one of our in-house experts based on the nature of your query and your country of interest.