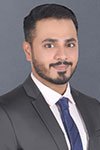 Hassan Paracha | Accounting Officer
I was brought up in the UAE and joined Healy Consultants Group in May '21 as an Accounting Officer. Prior to that, I worked for five years as an Assistant Accountant for a Swiss firm based in Dubai. I am a certified CIA and ACCA member, and I now use my extensive knowledge and experience with Healy Consultants Group's global clients.
My business goals

To create multiple sources of income.
To have extensive knowledge of accounting and tax laws around the world.

My daily work schedule

To timely and accurately file local statutory and legal obligations.
To project manage large Client engagements including elements of tax, banking, logistics, legal, regulatory and immigration.
Timely update all internal Accounting and Tax team's status and database.

The most interesting work I ever did

Timely update all internal Accounting and Tax team's status and database.
Successfully developed and implemented Microsoft Dynamics NAV in my previous role.

The most rewarding work I ever did

Annually organising free meals to the needy during the Holy Month of Ramadan in Dubai.

Pastimes

Quality time with family and friends.
Travelling and exploring.
Netflix.

Business style

Professional behaviour.
Detail-oriented.
Professional competence and due care.

Languages I speak

English, Urdu, Hindi and Punjabi.

A sample of my global business experience

Preparing accounting and tax reports for multi-national clients based in various jurisdictions like Singapore, Hong Kong, Ireland, Canada and Bulgaria.
Contact our firm
Your query will be handled promptly by one of our in-house experts based on the nature of your query and your country of interest.