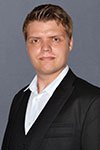 Henry James Beck | Client Engagements Manager
Coming from South Africa, where I spent the previous four years working as an accounts and project manager for a local company, I joined Healy Consultants' Dubai office in July of 2018 as a Client Engagement Officer. Bringing my project and accounts management expertise to help advance the organizational goals of Healy Consultants Group.
My business goals

Gain expert level knowledge within Healy Consultants' industry to be able to properly understand and professionally assist clients effectively meet their goals.
To maintain high levels of ethics and morals in every aspect of business, from honestly providing clients with the right solutions of the highest standards through to justly working with suppliers and affiliates;
To become a respected and trusted business partner for all our clients I deal with, ensuring our clients always feel I have their best interests at heart.

My daily work schedule

Advancing clients engagements through means of company incorporation, bank account opening and overcoming various challenges that arise during projects.
Consulting with clients to provide them keen solutions and guidance on how to best approach and achieve their entrepreneurial ambitions;
Provide assistance to other members of the team where ever necessary to ensure all clients' requirements are consistently being achieved.

The most interesting work I ever did

I consulted a multi-national client and designed a solution to address a massive business risk related to power fluctuations and poor service delivery from governmental service providers. It was a massive consultation project which required considerable thought, attention and knowledge to provide as cost effective and appropriate a solution as possible.

The most rewarding work I ever did

I aided a senior member of my team assist one of our clients open three companies in three different jurisdictions with scattered directors and shareholders requiring the overcoming of numerous and challenging obstacles such as logistics and legalisations. These companies were then converted into NPO's as they were churches focused on teaching and charity for the impoverished.

Pastimes

Reading books on psychology and human behaviour, travelling to experience other cultures, history and ways of life and any new experiences that broaden my knowledge and understanding of other people and life in general.

Business style

Big picture thinker, considering larger implications of decisions over smaller consequences;
Solution orientated, focusing on ethical, practical and cost-effective solutions to challenges that present themselves;
People first mentality, focusing on clients and colleagues as individuals and considering their personal needs and wants first and foremost.

Languages I speak

A sample of my global business experience

I have assisted numerous clients in various jurisdictions such as South Africa, UAE, Spain, Singapore, Hong Kong and Mauritius.

Multi-currency corporate bank accounts

South Africa, Dubai, Singapore.

The most unusual engagement I did

Assisted a UAE based client open a bank account in Singapore for a newly established Hong Kong based entity.
Contact our firm
Your query will be handled promptly by one of our in-house experts based on the nature of your query and your country of interest.