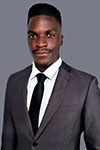 Muhammed Juniour Kafeero | IT Officer
I joined Healy Consultants Group in September 2021 as an IT Officer. Prior to that, I was a college student studying Information Technology at one of the private colleges in South Africa.
My business goals

To use my IT expertise to enrich Healy Consultants Group's productivity.
Gain more work experience by working out of the country.
Take on more projects that will further expand the firm.

My daily work schedule

Ensure that every staff is assisted in terms of IT support where required and necessary.
Check and report any errors on the website affecting our SEO from both the desktop and mobile platforms.
Investigate emails which can't be sent to potential Clients.
Make updates to the website where required.

The most interesting work I ever did

Working for one of the best companies at setting up businesses globally without travel. That company is Healy Consultants Group.

The most rewarding work I ever did

Working as an IT Officer at Healy Consultants Group.

Pastimes

Cooking, watching movies and playing video games.
Listening and producing music.
Researching on the latest technologies to further my knowledge and skills.

Business style

Disciplined
Driven & Productive
Quality

Languages I speak

English, Xhosa, Sesotho, Zulu and Luganda

A sample of my global business experience

Counted email inquiries coming from various countries which were received on the Healy Consultants Group's email.
Contact our firm
Your query will be handled promptly by one of our in-house experts based on the nature of your query and your country of interest.