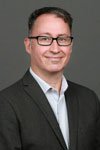 Mark Lazell | Asia-Pacific Deputy CEO
I joined Healy Consultants Group PLC in 2004 for a few years. I left for a few years and returned again in 2020 as Business Website Director. Before that, I used to work for Al Hilal Group, a leading Middle East publisher. Now I use my e-commerce skills and knowledge to assist Healy Consultants Group PLC's clients and staff.
My business goals

To ensure our website has the best content in the world;
To establish Healy Consultants as a global Thought Leader;
To enhance the Healy Consultants global brand;
To elevate the visibility of our website on search engines;
To optimise our blockchain footprint;
To make a difference to the business and leave a positive long-term legacy.

My daily work schedule

Creating quality content for our website;
Optimising content for search engine rankings;
Conducting country research;
Engineering simple, practical e-commerce strategies;
Optimising website navigation and performance;
Reviewing and approving output from my IT & Econ Department staff;
Supervising timely, accurate completion of internal projects;
Client communication.

The most interesting work I ever did

Wrote a 220-page book on the Riyadh Metro project, at $27 billion the world's largest integrated public transport project ever built. The book, commissioned by the Riyadh Development Authority and distributed to the Royal Court and Saudi embassies around the world, showcased not only the huge construction challenges of building a 176km metro system in just six years, but also the potential long-term economic benefits and impacts on social mobility in Saudi Arabia.

The most rewarding work I ever did

As editor of The Gulf, a market-leading economics and financial analysis magazine, I was fortunate to have met and interviewed influential policy makers, regulators, CEOs, entrepreneurs and business people in the Middle East and beyond, during a time of rapid change, challenges and growth in the region.

Pastimes

Travel to obscure places;
Cooking for people;
Playing football.

Business style

Hands on;
Motivated by quality output;
Competitive;
Human (empathetic).

Languages I speak

English. I can read, write, and make myself understood in, Arabic.

A sample of my global business experience

I have written economic analysis feature stories and reports on countries across the Middle East and Asia Pacific, covering sectors including banking and finance, oil and gas, manufacturing, construction, travel and tourism, real estate, capital markets, infrastructure and aviation. These articles have been widely distributed across these regions, to an audience including policy makers, regulators, CEOs and entrepreneurs.
Contact our firm
Your query will be handled promptly by one of our in-house experts based on the nature of your query and your country of interest.