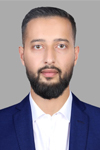 Nadir Miah | Legal and Compliance officer
I joined Healy Consultants Group PLC in March 2023 as a Legal & Compliance Officer. Prior to that, I used to work in the banking and financial sector in the UK as a settlements specialist and dealt with compliance/transaction monitoring for reputed banks.
My business goals

To ensure our compliance needs and requirements are met and to understand global regulations and how we can safeguard funds.
Carry out extensive due diligence to help protect clients/organizations from fighting financial crime and AML.
Provide exceptional service to our clients that will meet their needs and want and exceed expectations.

My daily work schedule

Providing our global staff with the documents required for KYC due diligence to meet our client's needs.
Assisting clients with their business needs and wants and how we can accommodate this with simplicity.
Carry out enhanced due diligence procedures.

The most interesting work I ever did

Working in financial crime and investigating fraud/scam activity and getting to look at what goes on behind the scenes in a financial crime investigation within a bank.

The most rewarding work I ever did

Helping clients save their funds and protecting them from fraudsters. I helped many clients save their hard-earned money from being taken out of their savings accounts before the fraudsters could get to them.

Pastimes

Netflix & Chill
Playing football
Travelling

Business style

Organized
Work-life balance
Can-do attitude.

Languages I speak

A sample of my global business experience

Carrying over ten years of European experience in assisting clients with making international payments, carrying out day-to-day banking activities, and ensuring a high level of KYC and due diligence was carried out to UK standards.
Contact our firm
Your query will be handled promptly by one of our in-house experts based on the nature of your query and your country of interest.