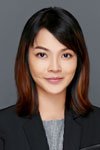 Nisa Umar | Human Resources Department Manager
I joined Healy Consultants Group PLC in 2019 as a Receptionist and HR Administrator. Before that, I used to work in a physiotherapy clinic as an Operations Executive. Now I use my skills and knowledge to assist Healy Consultants Group PLC's Clients and staff.
My business goals

To gain vast knowledge and experience in the HR department;

See myself at a responsible position where the Company sees me as a valuable asset;

Maintain a fun, respectful and conducive work environment;

My daily work schedule

Maintaining staff leave records, medical claims, passes expiry;

Assist with recruitment process by identifying candidates, performing reference checks and others;

Responsible for incoming telephone calls;

The most interesting work I ever did

It was during my time in event management. Each event is different in its nature, so process of planning and execution of each event differs on basis of type of event and tailored to individual Client.

The most rewarding work I ever did

Opening a bistro from scratch together with the Owner. Together with the team, we had the experience from start that is picking out tiles, assisting with the menu and even hiring part-timers.

Pastimes

Travelling;
Watching movies alone;
Reading;

Business style

Languages I speak

A sample of my global business experience
Contact our firm
Your query will be handled promptly by one of our in-house experts based on the nature of your query and your country of interest.