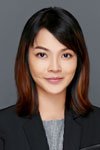 Nisa Umar | Human Resources Business Partner
I joined Healy Consultants Group PLC in December 2019. Within a year, I was promoted to Human Resources Manager. I have learnt so much in this role and feel fortunate to be given the trust and opportunity to manage the HR Department. Working alongside a fascinating team is the cherry on top!
My business goals

To constantly gain knowledge and stay updated with labour laws in various jurisdictions around the world.

Significantly develop my management and leadership skills.

To maintain a fun, respectful and productive work environment.

My daily work schedule

Oversee ongoing global recruitment strategy for Healy Consultants Group's expansion in
i) Singapore

ii)

Dubai

iii)

Malaysia

iv)

South Africa

v)

Manchester (UK) and

vi)

Florida (USA).
Handling HR matters including

i)

benefits

ii)

compensation

iii)

recruitment

iv)

employee relations and

v)

other administrative duties.

Monthly, I process payroll and generate payslips for Healy Consultants Group.

Every six months, I conduct staff surveys and appraisals.

The most interesting work I ever did

I was involved in a restaurant start up. It broadened my perspective on the difficulties of opening/running a business.

The most rewarding work I ever did

Working in HR. I am in a position to influence and possibly change a life.

Pastimes

Cycling;
Travelling;
Music & movies;
Reading;

Business style

Direct;

Honest;

Empathetic;

Languages I speak

A sample of my global business experience
Contact our firm
Your query will be handled promptly by one of our in-house experts based on the nature of your query and your country of interest.