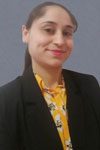 Roma Paul | Legal & Compliance Officer
I joined Healy Consultants Group PLC in November 2021 as a Legal & Compliance Officer. Prior to that, I used to work as a Company Secretary in a Company registered in India. I part of the broader compliance team working together within the UAE and international offices and leveraging our cross-border experiences to provide the highest standards of compliance with the local and international laws.
My business goals

Constantly improve my practical knowledge of both domestic and international AML policies, practices, and frameworks.

Ensure that robust and feasible AML/CFT measures are implemented to mitigate and minimise risks to Healy Consultants Group PLC.

Keeping well-informed of the latest changes in the Company Regulations, Singapore's ACRA's Guidelines for Registered Filing Agents, CDSA, TSOFA, FATCA and FATF's recommendations.

Ensure that legal agreements and contracts entered into are mutually beneficial to both Healy Consultants and our valued clients/suppliers

My daily work schedule

Performing Risk Assessment checks and determining the level of AML/CFT risks.

Preparing Due Diligence Checklists for new as well as existing clients.

Performing on going monitoring of the existing clients by collection of their latest Due diligence documents.

Keeping myself updated on the latest notifications or guidance on legal reporting requirements with respect to AML/CFT.;

Assisting Legal and Compliance Department for the preparation of Training material on AML/CFT for all staff.

Assisting in preparation and submitting relevant Suspicious Transaction Reports (STR's) to the authorities.

Assisting all staff of Healy Consultants Group PLC to maintain high standards of compliance with internal procedures.

The most interesting work I ever did

• I represented on behalf of my Company as a Company Secretary in front of the Company Law Board which at present is NCLT, a quasi-judicial body in India that adjudicate issues relating to Indian Companies. I successfully completed the task of Compounding of Offences related to the Company under various sections of the Indian Companies Act,2013.

The most rewarding work I ever did

I led an impact day for my organisation and lead an event to support special children in their education and well-being. We spent a quality day and certainly rewarded.

Pastimes

Watching Bollywood movies.
Shopping.
Exploring new cuisine

Business style

I am confident and hardworking.;

Efficient and responsible.;

Adaptive.

Languages I speak

A sample of my global business experience
Contact our firm
Your query will be handled promptly by one of our in-house experts based on the nature of your query and your country of interest.