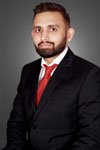 Sameer Razi Ansari | Client Relationship Manager
I grew up in Dubai, UAE, and joined Healy Consultants Group PLC in 2020 as a Clients Engagements Officer, managing both local and International Clients from the Dubai office. Before that, I spent three years working as a Business Development and Project Manager for a Hong Kong firm based in Dubai. My UAE experience has provided me with extensive knowledge of various jurisdictions and industries. I have brought this knowledge to Healy Consultants Group PLC to assist the diverse range of global Clients.
My business goals

To become an expert in incorporating businesses and corporations worldwide with viable, effective business structures.

To be a future leader at Healy Consultants Group PLC, helping expand the Firm's operations and diversifying its services.

To specialise and become the go-to person for at least three jurisdictions and three services that we offer.

My daily work schedule

Project managing Client engagements and supplying deliverables such as project plans, business plan and weekly updates.

Helping secure corporate bank accounts and incorporate companies for Clients in various regions and jurisdictions globally.

Assisting team members and helping them when needed to ensure Clients' needs are met on time and to the highest standards.

The most interesting work I ever did

Project managed a company that developed technology allowing air moisture to be converted into water, thus producing clean, drinkable water from thin air. I drafted the business plan and the marketing plan for this technology to be implemented in the Middle East and Africa.

The most rewarding work I ever did

Laid the foundations for a solar irrigation business in Kenya and Nigeria. This business will eventually reach thousands of small holder farmers in climate change-affected areas, enabling them to grow their produce at a higher yield, with low water usage and with clean solar energy reducing their carbon footprint and increasing their income.

Pastimes

Travelling, sports, hiking/trekking, reading

Business style

Thought leader and innovator in any industry I work in.
Head-on approach when it comes to challenges and difficulties.
Friendly, honest and open-minded.
Adaptive to different working environments, with a neck for problem solving.

Languages I speak

English, Urdu, and Hindi

Learning French and Arabic.
Contact our firm
Your query will be handled promptly by one of our in-house experts based on the nature of your query and your country of interest.