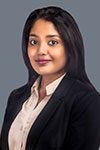 Shreethu Sreejith | Client Relationship Officer
I joined Healy Consultants Group in 2022 as a Client Relationship Officer Intern. Prior to that, I used to work as a business development associate.
My business goals

Build a netbook of business recurring revenue to improve Healy Consultants' standing in the international market.
Assist with high quality business setup through constantly enhancing outbound sales strategies.
Foster a sense of community among our clients by developing a best-practices-based customer community approach.

My daily work schedule

Preparing engagement summaries, project plans and business plans.
Focusing on client deliverables and promoting efficiently managing all my engagements by meeting clientele expectations and providing the highest of quality in services.
Liaising with our local teams, banks, and government authorities across the world.

The most interesting work I ever did

Assisting in engagements focusing on multiple jurisdiction business setup.

The most rewarding work I ever did

Inculcating a work regimen where I was able to focus on the needs of my clients efficiently without compromising my duties and responsibilities as an employee of Healy Consultants Group.

Pastimes

Travelling to new countries
Cooking various vegan/meat alternative dishes with Asian influence
Indulging in true-crime literary works

Business style

Implementing a consultative management style where I ask for the opinions, thoughts, and viewpoints of our team
Pushing myself past their comfort zones regularly, and consistently motivating myself to raise my bar for achievements.
Focusing on long-term development and valuing it above short-term failures to promote learning, upskilling and growing within the best of my abilities in the workplace.

Languages I speak

A sample of my global business experience

Preparing engagement summaries, project plans, and business plans to assist with company incorporations across a wide range of jurisdictions including Jordan, USA, Morocco, Cayman Islands, UAE and several others.
Contact our firm
Your query will be handled promptly by one of our in-house experts based on the nature of your query and your country of interest.