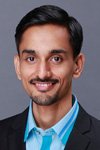 Venkatramani Radhakrishnan | Senior IT Specialist
I joined Healy Consultants Group PLC in 2014 as a Web Developer and continued developing within the company until 2017 when I relocated to my home town in India, Chennai. I started working as Senior IT Specialist for Healy Consultants, assisting my Singapore Office IT Department colleagues.
My business goals

Make Healy Consultants business website great;
Make Healy Consultants website rank 1 on search engines for all business services we provide;
Bring in high-quality organic leads to our business.

My daily work schedule

Update website content and make changes to the website;
Work on SEO tasks and other marketing strategies to improve our company's digital presence.

The most interesting work I ever did

Worked on upgrading Healy Consultants website from a basic WordPress theme to a customised site.

The most rewarding work I ever did

Secured 100+ backlinks from ICAEW for Healy Consultants website.

Pastimes

Reading, Cooking, Watching Movies.

Business style

Dedicated;
Goal-driven;
Adaptive.

Languages I speak

A sample of my global business experience

While working on different marketing strategies, I am responsible for building relationships with a wide variety of business websites and companies for promoting Healy Consultants' website.

The most unusual engagement I did

Designed an e-commerce website for our Client who runs a Fine & Fashion Jewellery business worldwide.
Contact our firm
Your query will be handled promptly by one of our in-house experts based on the nature of your query and your country of interest.