10 steps to incorporating in Poland in 2023
Incorporation of a company in Poland is not as easy as in Western European countries, but Healy Consultants Group can complete the company incorporation without our Client's travel to Poland and will project manage the engagement on our Client's behalf. An overview of company setup procedures are as below: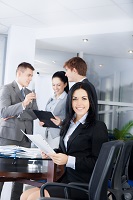 Pre-incorporation steps

Prior to Poland company incorporation, our Client

i)

settles Healy Consultants Group's incorporation fees

ii)

signs and returns our Client engagement letter and

iii)

provides us all the required due diligence documents;

Our business setup expert drafts a detailed engagement project plan mapping out each step to engagement completion, optimizing transparency and settling Client expectations;

Healy Consultants Group's in-house country expert assists our Client to decide on

i)

proposed company's name and

ii)

the optimum corporate structure. Healy Consultants Group discusses the details of the proposed business activities;
Next, Healy Consultants Group carries out a negative company name search on the National Court Register (KRS) on behalf of our Clients and reserves the preferred legal company name. All company names must append the suffix spólka z ograniczona odpowiedzialnoscia (spólka z o.o. or sp. z o.o in short).

Incorporation steps

Healy Consultants Group

i)

drafts the company bylaws,

ii)

completes incorporation forms and

iii)

couriers the complete incorporation documents to our Client for their signatures and courier-return. The documents are usually in Polish, and if requested by our Client, our in-house incorporation team prepares the incorporation forms in both Polish and English or provide an English translation at additional cost. Once the signed original set of documents is received, our incorporation team will have these documents notarized and submitted to the Ministry of Justice;

Healy Consultants Group's in-house corporate banking team proceeds to open of a corporate bank account with a Polish bank. Our Client will then be required to deposit a paid-up share capital of €1,200 and secure a certificate of capital deposit before proceeding to complete company registration;

Next, Healy Consultants Group files the complete set of notarized incorporation documents the National Court Register to secure

i)

a statistical number referred to as REGON

ii)

tax identification number and

iii)

listing within the social registry;

Our Client will then supply Healy Consultants Group with a lease agreement for Polish office premises. If our Client does not have a business premise, we will provide virtual office services for the first six months or until our Client secures a permanent business address.

Post-incorporation steps

As soon as our Clients company is incorporated, we will register the same with the Polish Tax Administration by submitting

i)

the company's business name and legal form

ii)

the REGON number

iii)

proposed start date for business activities and

iv)

registered office address in Poland;

Following the company incorporation engagement completion, Healy Consultants Group will courier a full Poland company kit to our Client, including original documents, unopened bank correspondence and a Client feedback survey to assess the quality of our Poland business incorporation services.
Checklist of important documents to complete Poland company incorporation
For all individual shareholders and directors the below documents, attested by a Public Notary:

Passport copies;
Address proof.

For corporate shareholders, the below documents certified by the Commercial Registrar and attested by a Public Notary:

Certificate of Incorporation;
M&AA;
Other relevant company documents.

Certificate of share capital deposit from a Polish bank.