Egypt employment visas in 2021
All foreigners are required to secure a work visa in order to work in Egypt. Healy Consultants will assist our Clients prepare visa applications and submit to the local Egypt Consulate. Our fee for this service is US$3,950 per visa. To date, we enjoy 100% visa approval record.
Business visa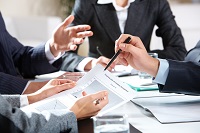 A business visa is available for foreign nationals who conduct short term business activities (conferences, seminars and courses) in Egypt. Egyptian business visas are valid for 3 months with single or multiple entries. The applicant must submit a letter from the employer stating the purpose of their visit to Egypt.
Work permit
Foreigners who wish to work in Egypt must obtain a work permit from the Ministry of Manpower prior to their arrival. Work permit must be obtained through the employer. Foreigners who arrive in Egypt on tourist visas but want to change their status after arrival are allowed a 3-month non-working resident visa to do so.
Tourist visa
An Egyptian tourist visa is valid for 3 months with a single entry, or 6 months with multiple entries. During this time, tourists are not permitted to work in Egypt. Only 11 Arabic countries are exempted from Egyptian tourist visa, citizens of Western Europe, USA, Canada, Japan, and Korea can get tourist visas upon their arrival to Egypt.
Egypt corporate banking options
Healy Consultants international corporate banking team assists our Clients to open a corporate bank account in Egypt. All necessary documents will be prepared and submitted to the preferred bank on behalf of the Client. Healy Consultants experienced banking team will also attend the bank account opening interview on your behalf.
Egypt banking
Egypt financial and banking sector comprises of about 79 commercial, business and investment banking institutions. The largest and leading commercial banks in Egypt are predominantly local banks including

i)

National Bank of Egypt

ii)

Commercial International Bank

iii)

Banque Misr and

iv)

Bank of Cairo;
Egypt also boasts a wide range of foreign international banking powerhouses like

i)

Barclays Bank Egypt

ii)

HSBC Bank

iii)

Citibank among others;
Banks in Egypt offer a wide range of tailored products and services for both individual and corporate institutions. These include

i)

checking and savings accounts

ii)

internet and phone banking

iii)

debit and credit cards

iv)

loans and finances

v)

cash management;
The Egyptian pound has deteriorated in recent years since the 2011 revolution loosing 8% against the USD in 2014 alone and is still expected to slide further by another -3%. This means that deposit and assets for investors and entrepreneurs based abroad will lose US$ value overtime;
Other difficulties faced by businesses in Egypt since the 2011 uprising is the high inflation rates experienced. Depositors should prepare to lose about 14% of their deposits' purchasing power by end of the year as the International Monetary Fund (IMF) projects a 14% inflation rate expected in 2015;
Legal entities must be registered in Egypt and get a formal approval from the General Authority for Investment (GAFI) to operate in Egypt in order to open a corporate bank account. However, a few selected Arab banks currently offer non-resident corporate bank accounts for business registered within the UAE;
Clients should also note that banking policies and requirements in Egypt differ from bank to bank, and also even between branches of the same bank. While other banks may require minimum initial deposit, others have no requirements for such.
Healy Consultants banking services
Healy Consultants international banking team can open on behalf our Client

i)

an Egypt corporate bank account within 4 weeks and

ii)

internet banking within the following three weeks. Healy Consultants fee for this service will be US$4,950;
To ensure our Clients receive the best internet banking and customer service, Healy Consultants recommends internationally recognized banking institutions in Egypt as mentioned above. However there are a number of reputable local banks in Egypt that equally provide state-of-the-art internet banking services. These banks include

i)

Piraeus Bank

ii)

Arab Bank Egypt

iii)

Blom Bank Egypt

iv)

QNB Alahli;
Healy Consultants banking experts will liaise with the Clients' preferred bank to ensure he/she doesn't travel to Egypt for account opening interview. There is a 10% chance that the Client will be required to travel for the interview and in the event that this happens there will be a US$500 fee discount;
Healy Consultants can also open a local Egypt corporate bank account for non-resident companies registered within the UAE without travel. Clients will also enjoy free inward and outward transfers between the two jurisdictions.
Opening a corporate bank account in Egypt
The documents required for opening a corporate bank account in Egypt include

i)

Memorandum and Articles of Association

ii)

certificate of incorporation

iii)

a tax registration number

iv)

a valid passport

iv)

proof of address

v)

board resolution indicating account signatories;
Healy Consultants Egypt compliance team prepares all the documentation required to open the account and presents to the Client's preferred bank. The bank account opening timeline on average is 4 weeks;
After the approval of the corporate bank account, the preferred bank will independently and promptly send by post, courier or email, the corporate bank account details and correspondence, to our Client.
Capital and foreign exchange controls
Since the uprising in 2011, the Central Bank of Egypt (CBE) has imposed stringent measures on import and export of capital and remission of funds abroad. The CBE only permits a maximum repatriation of US$200,000 in hard currency per individual for the entire year;
Additionally, individuals may only withdraw up to a maximum of US$10,000 per day in foreign currency. This however is not observed uniformly as some banks restrict depositors to a much less withdrawal limits per day;
The exchange rate in Egypt is dependent on the Central Bank of Egypt's sales of the US$ to other banks hence Egyptian banks have total control over the official forex exchange rates. Individuals cannot convert freely their Egyptian pounds in other foreign currencies;
The demand for US$ of circa half a billion per month and other foreign hard currency in the Egyptian market, a demand greater than what the official market can provide, has led to the springing up of the forex black market in Egypt to help satisfy this demand;
However, investments and aid from the Gulf region may soon balance the supply and demand deficit and see an end to the black market. The UAE, Saudi Arabia and Kuwait has since delivered at least US$12 billion to the Egyptian government in aid.