Latvia employment visas in 2023
Non-EU nationals are required to apply for a visa to work and conduct business in Latvia to enter Latvia. Healy Consultants offers this service to our Clients for €3,950. Please note that visa application fees can be different based on your country of origin. The following visas will be available to our Clients:
Entrepreneur visas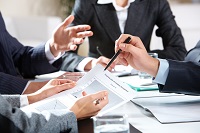 Non EU entrepreneurs will be required to obtain a temporary residence permit, specifically for the purpose of self-employment. This visa will be valid for 1 year only, after which the Client must re-apply to the Office of Citizenship and Migration Affairs to obtain an extension;
Documents to be submitted when applying for this visa will include

i)

a valid passport

ii)

proof of Latvia company formation

iii)

a business plan certified by an auditor and

iv)

proof of financial means required to sustain the business;
Alternatively, foreigners, who wish to make passive investments in Latvia, may apply for special residence permits which will be valid for 5 years. Qualifying investments include:

i)

investment of €150,000 in Riga's real estate

ii)

investment of more than €72,000 outside Latvia's major cities

iii)

placement of least €300,000 on a five-year deposit or bonds

iv)

investment of at least €35,000 in a Latvian company.
Employee visas
Non-EU citizens who wish to work in Latvia are required to obtain a work permit from the Office of Citizenship and Migration Affairs. The documents required to submit an application are i) visa or residence permit ii) proof of registration of a vacant workplace by the employer, at any branch of the State Employment Agency ii) valid passport iv) employment contract v) medical certificate stating good health of applicant vi) relevant marriage and birth certificates of dependents traveling with the applicant.
Visitor visas
A Visitor visa is issued for 90 days either for the purpose of tourism or business. The documents required to apply include i) valid passport ii) travel health insurance iii) documents declaring purpose of visit.
Corporate banking options
Healy Consultants assists our Clients with opening a corporate bank account in Latvia. Our experienced banking team will submit all required documentation to the bank on our Client's behalf. We will also attend the bank interview on your behalf. Please click on the links below to find out more about Latvia business banking.
Latvia banking
The Latvian banking sector boasts 20 local banks and 8 foreign banks. The biggest banks in Latvia are

i)

Swedbank

ii)

SEB Bank and

iii)

ABLV Bank;
Latvian banks provide a great range of corporate and personal banking products including

i)

multiple currency accounts

ii)

internet and phone banking

iii)

checking accounts

iv)

saving accounts

v)

debit and credit cards

vi)

fixed term deposit and

vii)

wealth management services;

It is expensive to borrow money in Latvia, as the corporate lending rates currently average around 6%;

Remittance transactions are closely scrutinized in Latvia, as the banks have recently been accused of money laundering, and hence have imposed strict anti-money laundering regulations.
Healy Consultants banking services
Healy Consultants can open a Latvia corporate bank account within 3 weeks and obtain internet banking approval within the following 2 weeks. Our fee for this service will be €4,950;

While our experts will liaise with the banks to prevent our Clients from travelling for the interview, there is still a 50% chance that the bank may require our Clients to travel for a one hour interview;

Following bank account approval, the preferred Latvian bank will directly and independently email our Client the corporate bank account number;

Healy Consultants can open a local corporate bank account for a foreign company. Many of our Clients use a local corporate bank account to receive payments and pay suppliers without the need for Latvia company formation. Our fee for this service will be €4,950.
Opening a Latvian corporate bank account
Healy Consultants recommends our Clients to opt for either Norvik Bank, Swedbank or Baltikums bank for Latvian corporate bank account solutions;
Documents required to open a Latvian corporate bank account are

i)

a valid passport

ii)

proof of address

iii)

enterprise registration certificate from the Register of Enterprises

iv)

Articles of Association.
Trade finance
Latvian banks are willing to provide finance to local companies if the following conditions are met

i)

good business-plan

ii)

availability of collateral assets

iii)

experience of business owners

iv)

last 3 years audited financial statements

v)

realistic feasibility study and

vi)

project strength and weaknesses analysis (SWOT);
We also assist our Clients secure trade finance services including

i)

bank guarantees

ii)

letters of credit

iii)

finance against trust receipt and

iv)

document against payment and against acceptance;

Healy Consultants will help our Clients obtain corporate finance in the form of a loan, overdraft or simply preferential credit terms.
Exchange controls and other regulation
Latvia does not practice any exchange controls that hinder repatriation of funds from the country.