12 steps to register a company in South Africa in 2023
Video
How to start a company in South Africa? | Benefits, Documents Required, Process explained!
Healy Consultants Group will help our Client register a South African company without them needing to travel to South Africa. Our Firm will complete all incorporation and bank account opening steps on our Client's behalf. Please refer to the section below for further details:
Pre-incorporation steps

Consultation

Healy Consultants Group's staff speaks with our Client to

i)

understand the business goals

ii)

discuss strategies to legally minimise local and international tax

iii)

agree the optimal structure of the business

iv)

agree total engagement fees and deadlines

v)

discuss potential regulatory license licensing requirements and

vi)

identify physical office premises and Staff recruitment strategies.
When all parties are ready, we ask our Client to

i)

settle Healy Consultants Group's engagement fees

ii)

sign and return our Client Engagement Letter and

iii)

provide us all the due diligence documents required by our in-house Legal and Compliance Department.
Simultaneously to 2. above, Healy Consultants Group supplies our Client with a detailed project plan, mapping out week-by-week the steps to engagement completion. The project plan includes best estimates for delivery dates for securing

i)

South African company incorporation numbers

ii)

South Africa tax registration numbers and

iii)

South Africa corporate bank account numbers. The project plan is designed to set clear Client expectations and increase transparency.

Incorporation steps

Reserve company name
We ask our Client to provide us with their top three preferred names, in order of preference, for their new South African company. Once confirmed, we perform a company name search with the Companies and Intellectual Property Commission (CIPC) and reserve our Client's preferred available name.
Registered office
In accordance with the South African Companies Act, all companies must, from the date of incorporation, have a legal registered address to which all official correspondence is sent. The Client may use their own physical office in South Africa or request Healy Consultants Group to provide a virtual office.
Appoint a Public Officer
Every South African company must appoint a public officer who is tax-resident in South Africa. Healy Consultants Group can provide a public officer to fulfill this statutory requirement.
Document submission
Healy Consultants Group's South African team prepares and submits the complete company incorporation application to the Companies and Intellectual Property Commission (CIPC).
Incorporation approval
Within 2 weeks of completing step 6 above, the entity is incorporated. Our team immediately emails our Client with their new South African company numbers.

Post-incorporation steps

Income Tax and e-filling registrations
Healy Consultants Group's company incorporation team registers our Client's company for income tax and e-filing with the South African Revenue Service (SARS), enabling them to submit tax returns online.
Employer registration
Simultaneously with the above post-incorporation steps, and if required, Healy Consultants Group registers our Client's company for employee tax (PAYE), Unemployment Insurance Fund (UIF) and the Skills Development Levy. Our Client should budget for these registrations to take up to eight weeks to complete. Once these registrations are complete, we can assist our Client recruit quality staff in South Africa.
Corporate bank account opening
Healy Consultants Group prepares a quality business plan for our Client's new South African company to maximise the probability of account approval. Our team then approaches multiple South African banks to determine their interest in onboarding our Client's company. Once we have secured interest from a bank/banks, our team completes the bank account opening application forms and submits the same, along with the business plan, to the bank. Where possible, and if required, we also secure a waiver from the bank for our Client to travel to South Africa for a one-hour interview with the bank officer.
VAT registration
Healy Consultants Group requests our Client to provide us with signed contracts/agreements that prove that a turnover of more than US$3,450 will be achieved over the coming three months. Thereafter, Healy Consultants Group register our Client's South African company for VAT.

Engagement completion

Following release of the corporate bank account numbers and any tertiary registrations, Healy Consultants Group supplies our Client with a full digital company kit with all corporate documents.

Our team also asks our Client to provide us with feedback to understand how well we met our Client's expectations during the engagement period.

List of the documents needed to register a company in South Africa

The below listed documents will be required when incorporating a South African private company:

Completed Notice of Incorporation form CoR14.1;
Completed forms CoR15.1A in the case of a standard private company or CoR15.1B for a customized private company;

A valid name reservation confirmation certificate (CoR9.4);

Certified true copies of national ID/passport of all individual shareholders and directors;

A certificate of incorporation, M&AA and latest annual return for corporate shareholders;

A power or attorney authorizing the company representative (if applicable);

Complete VAT101 form to register the local entity for VAT with SARS;

Complete EMP101 form to register the local entity for PAYE with SARS;

Complete WAs2 form to register for Compensation for Occupational Injuries and Diseases (COID) with the Department of Labour and Compensation Commissioner;

Complete UI8 to register employees for unemployment insurance with UIF.
Frequently asked questions
E-marketing development project form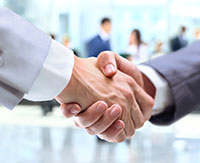 Healy Consultants Group is beginning a 6 month project to improve our brand, including business web site design, social media activity, mobile apps, SEO organic rankings and adwords advertising.
Because of the size of this project, we need to outsource this project to a quality professional e-marketing firms. If your company would like to help Healy Consultants Group with this project, please complete the 5 minute questionnaire below: