Hong Kong offshore company in 2023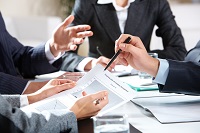 Hong Kong tax regulations allow foreigners to register companies in Hong Kong which can be legally exempt from Hong Kong corporate income tax. Such entities can be registered with a paid up capital of only US$1 and are usually "paper companies", that is to say businesses without any staff in Hong Kong. Please read the page below for further details on the advantages of doing business with a Hong Kong offshore company.
Why setup a Hong Kong offshore company?
A Hong Kong offshore company is an attractive vehicle to legally minimize international taxation. The company will be exempt from Hong Kong corporate income tax on foreign-sourced income. It will also benefit from the absence in Hong Kong of capital gains tax and withholding tax on earnings remitted overseas;

The above and the fact that Hong Kong has signed thirty six double taxation avoidance treaties also makes a Hong Kong offshore company a great holding vehicle. Please refer to our tax planning page for more information on prevailing corporate tax rules in Hong Kong and tax optimisation strategies;
Hong Kong is also an ideal gateway to enter into the Chinese market, as the City benefits from better access to the Renminbi than Singapore and other Asian trading hubs.
Important considerations before registering a Hong Kong offshore company
Unlike many other low tax jurisdictions, Hong Kong is usually not perceived as a tax neutral jurisdiction by foreign Government and banks;
The Hong Kong Government require all locally registered companies to disclose the identity of their directors and shareholders through an online Companies Registrar. Healy Consultants can however provide nominee shareholder and director services to Clients who are able to demonstrate they have legitimate reasons to protect their identity during our due diligence process;

It is also mandatory for all Hong Kong companies to submit audited financial statements to the authorities. No audit exemption is available, even for small businesses;

All Hong Kong banks will require our Clients to travel before approving a local corporate bank account. No exception to this rule. However, Healy Consultants can assist our Clients to open corporate bank accounts overseas. See this page for a sample of no travel quality corporate banking options.
Healy Consultants services
In order to support our Clients' Hong Kong businesses, our Firm will be pleased to offer the following services:
Table comparing offshore and onshore companies
| | Onshore company | Offshore company |
| --- | --- | --- |
| Corporate structuring considerations | | |
| Type of business entity? | Limited liability company | Limited liability company |
| Minimum number of shareholders? | 1 | 1 |
| Wholly foreign-owned? | Yes | Yes |
| Minimum number of directors? | No | No |
| Resident director required? | No | No |
| One individual director required? | Yes | Yes |
| Corporate directors allowed? | Yes | Yes |
| Resident company secretary required? | Yes | Yes |
| Business activities considerations | | |
| Legally tax exempt in Hong Kong? | No | Yes |
| Corporate income tax on trading income? | 16.5% | 0% |
| Can trade with local customers? | Yes | No |
| Can do business within Hong Kong? | Yes | No |
| Can open a local corporate bank account? | Yes | Yes |
| Can open bank account overseas? | Yes | Yes |
| Can rent local office? | Yes | Yes |
| Can hire staff in Hong Kong? | Yes | No |
| Allowed to own shares in HK companies? | Yes | No |
| May own yachts registered in HK? | Yes | Yes |
| Can apply for immigration visa? | Yes | Yes |
| Fees and timelines | | |
| Shelf companies available? | Yes | Yes |
| Total engagement timelines? | 8 weeks | 8 weeks |
| Draft invoice? | View invoice PDF | View invoice PDF |